This is our true story...
"AIRLIFT: The world's biggest civilian evacuation & the 2 biscuits!"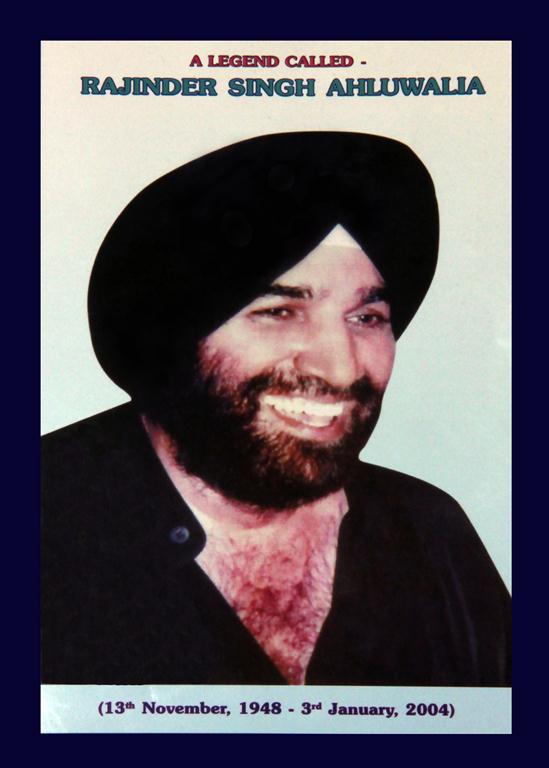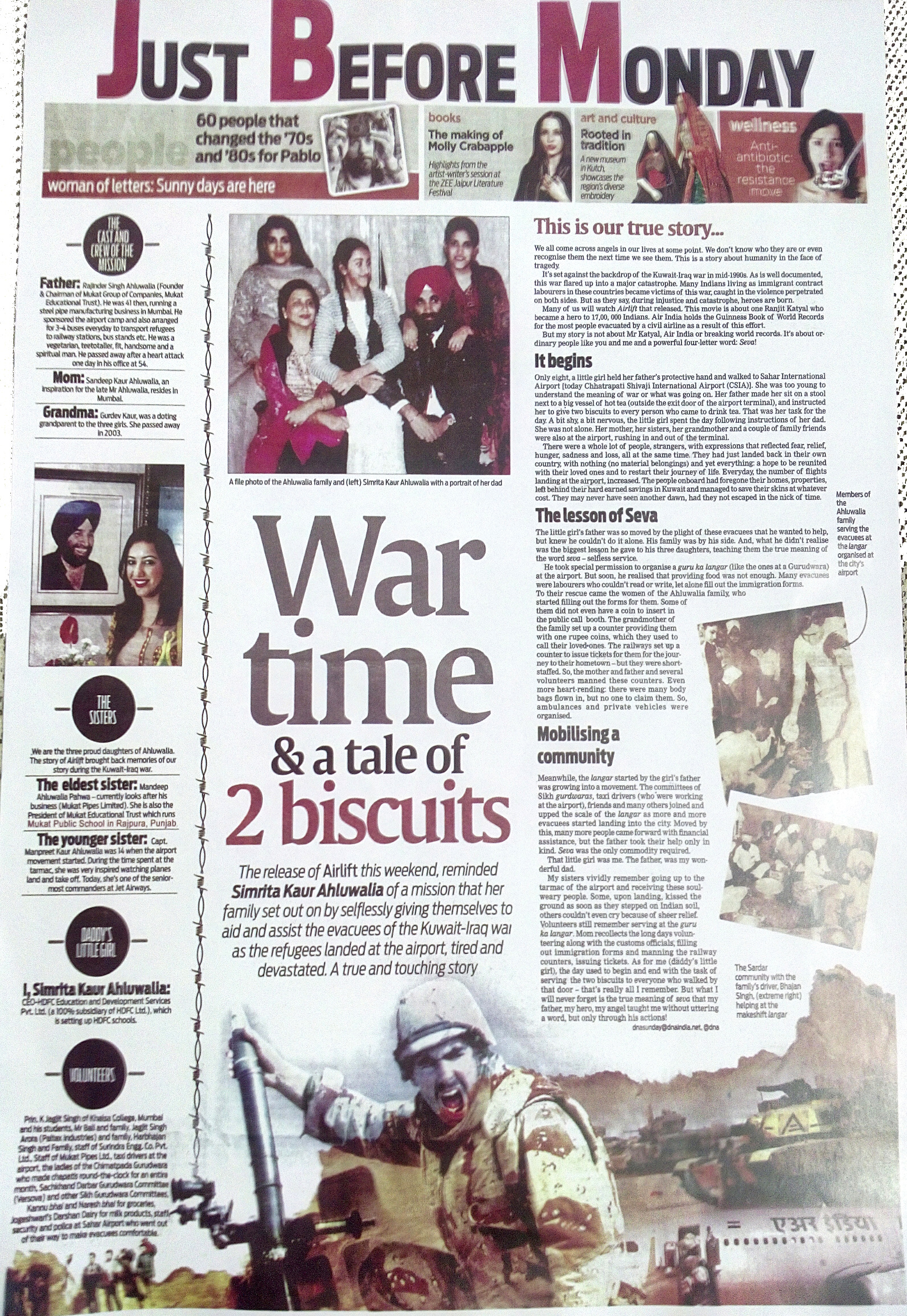 We all come across angels in our lives, at some point or the other. We don't know who they are, or will not even recognise their face the next time we meet them. This is a story about humanity and togetherness in the face of tragedy.

Set in the backdrop of Iraq - Kuwait war in mid 1990. Slowly as this war flared up into a major catastrophe there was disaster all around. Numerous Indians who were living as immigrant contract labourers in these countries became victims of this war- caught in the violence perpetrated on both sides. But like they say when there is injustice and catastrophe that is when heroes are born.

A lot of us will watch the upcoming movie Airlift releasing this week. The movie is about one Mr. Ranjit Katyal who became a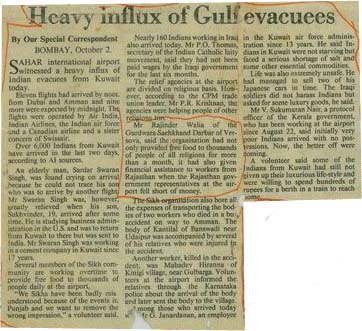 hero to 1,70,000 Indians and saved their lives. Air India holds the Guinness Book of World Records for the most people evacuated by a civil airline as a result of this effort.

But my  story is not about Mr. Katyal nor is it about Air India or breaking world records. It is about common people like you and me, and a powerful four letter word: SEVA!
 
All of 8 years old a little girl held her daddy's protective hand and walked to Bombay's Sahar International Airport, she was too young to understand the meaning of war or what was really going on. Daddy made his little darling sit on a stool next to a big vessel of hot tea (outside the exit door of the airport terminal), and instructed her to give 2 biscuits to every person who comes to drink tea. That was her task for the day, giving away 2 biscuits. A bit shy, a bit nervous, the little girl spent the hot day following instructions of her daddy. She was not alone, her mommy, her elder sisters, her granny and a lot of family friends were also at the airport, scurrying in and out of the terminal.

There were a lot of people, strangers, with a very distinct expression which reflected their fear, relief, hunger, sadness and loss all at the same time. They had just landed back in their own country, with NOTHING (absolutely no material belongings) and EVERYTHING (a hope for life, a hope for meeting their relatives and loved ones and a hope for restarting their journey of life). In the story of life they had just got the opportunity to replace the full stop with commas.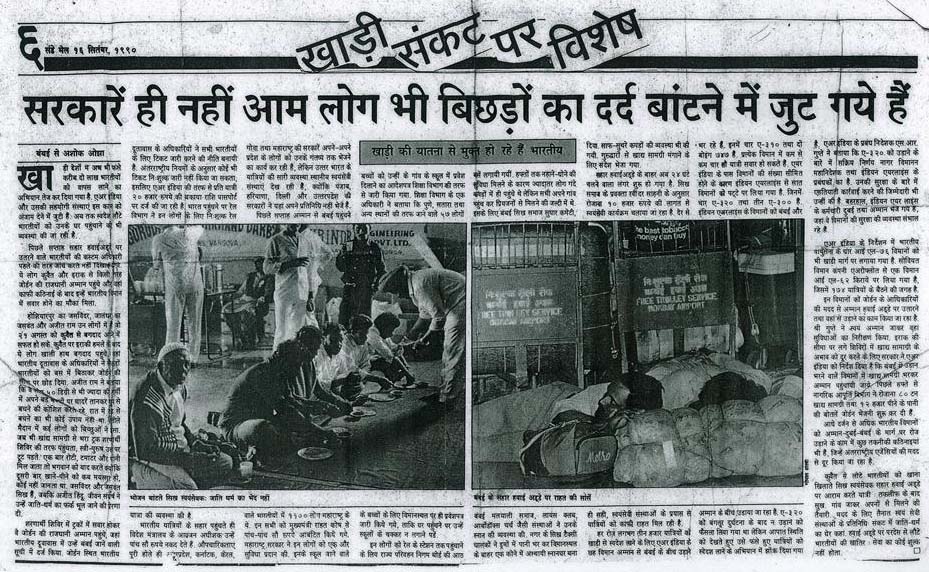 Everyday increasing number of flights started landing at the airport. The people had foregone their homes, properties, left every saving- every penny in Kuwait and managed to save their skins at whatever cost. They could never have seen another dawn, had they not escaped in the nick of time.

The girls' daddy was there because he wanted to help these people, but he couldn't do it alone- so of course his family was by his side. But what he didn't realise was that, that day the biggest help he gave was to his three daughters, by teaching them the true meaning of the word SEVA i.e. selfless service.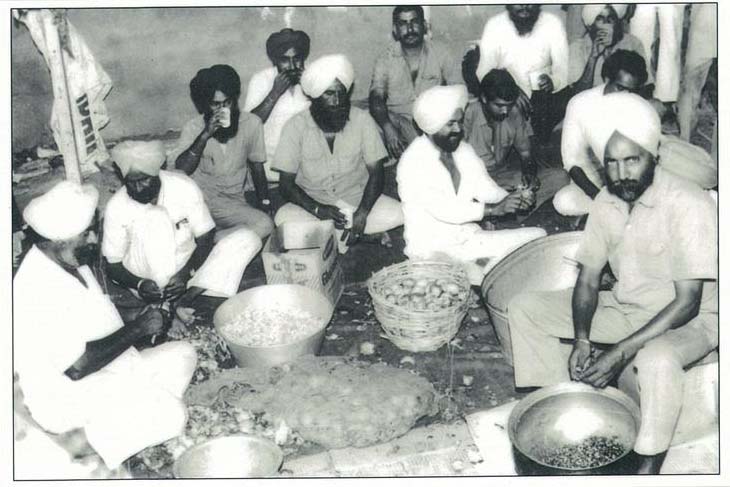 Daddy took special permission to organize a "guru ka langar" (just like the one we have at a Gurudwara) at the airport. But soon he realised that providing food was not enough, a lot of the refugees were illiterate and couldn't fill out the immigration forms: mom and sisters started filling out the forms for them.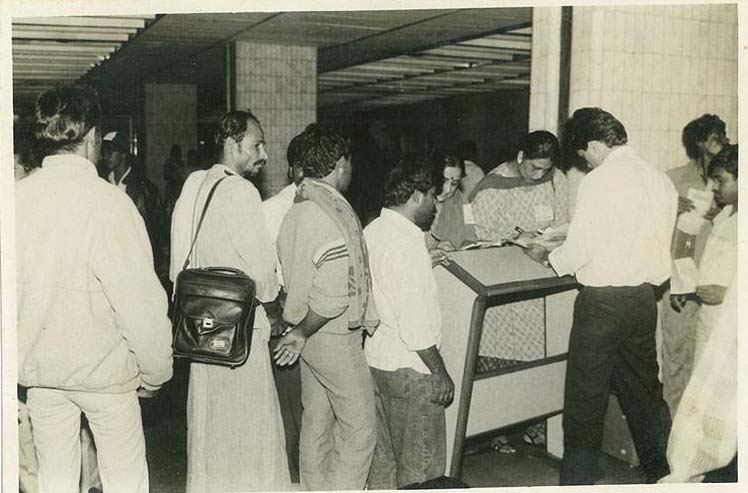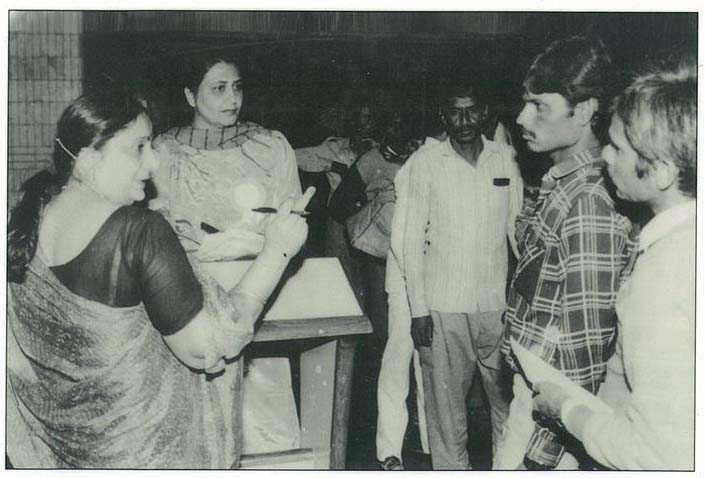 (Mrs Sandeep Ahluwalia filling immigration forms)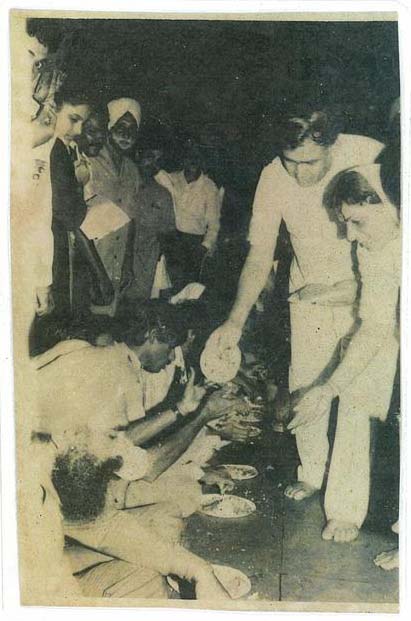 The refugees did not even have a coin to insert in the pco—grandma set up a counter for providing them with the priceless one rupee coin using which they spoke to their loved ones. The railways set up a counter—to issue tickets for them to reach their hometown- but they did not have staff to man them: so mum, dad and other volunteers manned these counters. There were also many dead bodies which were flown in but no one to claim them at the airport. Ambulances and private vehicles to send them to their native places, was also organized.

Meanwhile the langar that was started by the girl's daddy grew into a movement. The committees of Sikh gurdwaras, taxi drivers (who were working at the airport), dad's friends and many others joined and upped the scale of the langar as more and more refugees started landing. Many people came forward with financial assistance but daddy only took their help in kind. Seva was the only commodity required.

My sisters vividly remember going up to the tarmac of the airport and receiving these people. Some used to kiss the ground as soon as they stepped on Indian soil and would start crying. They remember serving the "guru ka langar". Mom recollects the long days volunteering along with the customs officials for filling out immigration forms and manning the railway counters issuing tickets. As for me (daddy's little girl), the day used to begin and end with the task of the 2 biscuits—and that's really all I remember—But what I will never forget is the true meaning of SEVA-- my daddy, my hero, my angel taught me – without even uttering a word, just by his actions!

 
Proud to be Daddy's little girl!"

The cast: 

Daddy: Mr. Rajinder Singh Ahluwalia (Founder & Chairman of Mukat Group of Companies, Mukat Educational Trust). He was all of 41 then, running a very successful steel pipe manufacturing business in Mumbai. All the financial sponsorship during this airport camp was done by him. He even arranged 3-4 buses everyday to transport these refugees to railway stations, bus stands etc.

He was a vegetarian, teetotaler, fit, handsome and a very spiritual man. He passed away in his office on 3rd Jan 2004 of a sudden heart attack at the age of 54.

Grandma: Mrs. Gurdev Kaur, a loving and doting grandparent to us- she treated us three girls as her grandsons, passed away in 2003.

The Sisters:
We are his three proud daughters, and the story of this movie brought back a lot of the forgotten memories we had with this incident.

My eldest sister :- Mandeep Ahluwalia Pahwa- currently looks after his business (Mukat Pipes Limited). She is also the President of Mukat Educational Trust which runs Mukat Public School (a leading school in Rajpura, Punjab with 2800+ students).

My middle sister :- Capt. Manpreet Kaur Ahluwalia, who was 14 when the airport movement started, got so influenced during the time spent at the tarmac watching planes land and take off, that she decided to become a pilot. She is today one of the senior most commanders of Jet Airways. 

Daddy's little girl:
I, Simrita Kaur Ahluwalia, am currently CEO- HDFC Education and Development Services Pvt. Ltd. (a 100% subsidiary of HDFC Ltd.), which is setting up HDFC schools.
 
Mom:  Mrs. Sandeep Kaur Ahluwalia, the reason for our existence and the inspiration for dad, currently resides in Mumbai.

Volunteers: Princ. K Jagjit Singh of Khalsa College, Mumbai and his student volunteers, Mr. and Mrs. Bali and family, Mr. Jagjit Singh Arora (Paltex Industries) and family, Mr. Harbhajan Singh and Family, staff of Surindra Engg. Co. Pvt. Ltd, Staff of Mukat Pipes Ltd., taxi drivers at the airport, a special mention to the ladies associated with the Chimatpada Gurudwara who made chappatis round the clock for a whole month, Sachkhand Darbar Gurudwara Committee (Versova) & several other Sikhs Gurudwara Committees, Kannu bhai & Naresh bhai for supplying the groceries, Jogeshwari's Darshan Dairy for supplying the milk products, Staff (including security and police) of Sahar Airport who helped in various capacities -going out of their way in making the volunteers comfortable and free to help the evacuees in every way, family, friends and all the others.

We acknowledge and extend our heartfelt thanks to everyone for executing the vision of our dad. Who knows- maybe more people will get inspired and heroes will be born!